Karlsgatan 2 is a meeting point for art and cultural heritage. One building houses two museums: Västerås konstmuseum – the city's own art museum - and the Västmanland County Museum.
The museums offer a wide range of exhibitions and events, guided tours and lectures, as well as research facilities, all in historical surroundings.
The two museums share an open area with a gift shop, café and auditorium.
The building dates from the beginning of the 20th century and was originally ASEA's first factory based on scientific manufacturing principles.
Welcome!
Mon closed
Tue, Wed, Fri 10am – 5pm
Wed 10am – 8pm
Sat, Sun 12 – 4pm

Opening hours during summer 15.6 - 15.8
Mon-Fri 10am - 4pm
Sat-Sun 12 - 4pm

Address:
Karlsgatan 2, SE-722 14 Västerås, Sweden
E-mail:
Tel, information desk:
+46 (0)21 39 32 22
VÄSTERÅS KONSTMUSEUM (ART MUSEUM)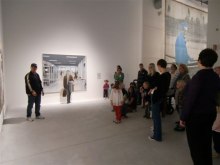 Västerås Art Museum mainly exhibits Swedish art from its own collection. The temporary exhibitions held at the museum focus on contemporary art by Swedish artists.
The museum also has an extensive education programme, with activities that include tours and studio work for different kinds of groups. Concerts, lunch tours and open house activities for children are regular occurences in the museum's programme.
Please visit our museum website for more information.
www.vasteraskonstmuseum.se
VÄSTMANLANDS LÄNS MUSEUM (COUNTY MUSEUM)
The museum aims to improve and convey knowledge about the cultural heritage of Västmanland, to improve insight into the past and to enrich the perspective of the present and the future.

Västmanland's County Museum is responsible for the county's cultural heritage and aims to give visitors the opportunity to experience and learn something new through lectures, guided tours, exhibitions and projects.

Please visit our museum website for more information.
www.vastmanlandslansmuseum.se